As a construction worker, you put a great deal of time, energy, and hard labor into your occupation. While most people in the field are aware that certain jobs have certain risks, it's still frightening when accidents occur. Luckily, North Carolina requires all construction businesses to supply their employees with workers' compensation insurance. This gives construction personnel the right to request compensation and assistance if they were injured while on site. Talk to The Bollinger Law Firm, PC, to learn more about your options after a construction accident in Charlotte.
Your Charlotte Workers' Compensation Firm
After the initial chaos from your injury has subsided, you'll need to address a variety of legal matters regarding your construction accident. At The Bollinger Law Firm, PC, we know that healing is your top priority. That's why we work to help our clients file accident claims and fight for compensation that can make the recovery process a bit easier on them. Our experienced workers' compensation team has been representing North Carolina employees for decades, helping to navigate the complex aspects of every case. If you were involved in a construction accident in Charlotte, North Carolina, do not wait to get the legal assistance that you deserve.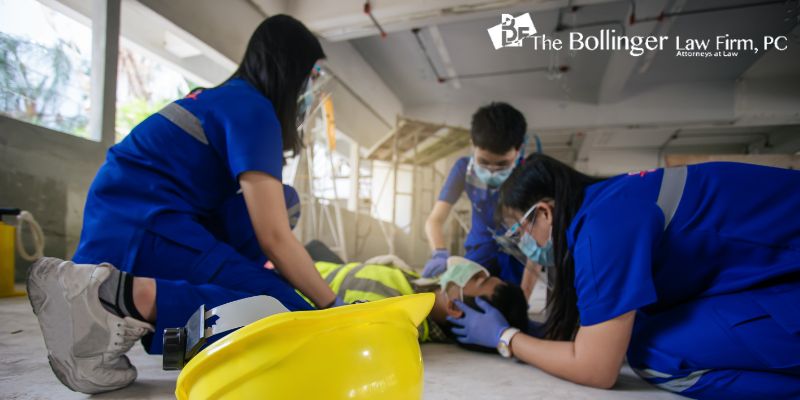 Understanding Construction Accidents and Worker Injuries in North Carolina
A construction accident can involve any incident where a worker is injured while on the job. This includes any kind of work injury, ranging from broken fingers to paralysis. All North Carolina construction personnel are given the right to file a workers' compensation claim when they sustain injuries from a work accident. This workers' compensation claim allows injured employees to request financial aid for their recovery. However, they must prove that the accident was a result of their job or that it could have been prevented with better safety measures. If the state believes you were acting negligently, performing a task that isn't part of your assigned duties, or lying about the severity of your injury, they most likely will not grant assistance.
What Are the Rights of Construction Workers Who Are Hurt on the Job?
From continuous doctor appointments to nonstop medical bills, recovering from a construction accident is anything but easy. This often leaves injured workers in a vulnerable spot, wondering if they're ever going to heal physically or financially. Luckily, the state grants injured construction workers a variety of rights when accidents occur. The following are workers' compensation benefits that you may be eligible to receive after a Charlotte construction accident:
Emergency Medical Assistance
Depending on how serious your accident was, you may be rushed to the hospital right from your job site. However, if you were injured at work and then went to an E.R. or urgent care later to have it looked at, this still counts as emergency medical care. If your workers' compensation claim is granted, you should receive financial assistance that helps to cover your emergency medical bills.
Long-Term Medical Assistance
Some injuries take weeks to heal, some take months, and others may be permanent. If your accident resulted in long-term injuries, you deserve financial aid to help cover your bills. Long-term medical assistance can include regular doctor's appointments, physical therapy, and other forms of treatment that aid in your recovery or help you live comfortably. Our workers' compensation team can help you request long-term assistance if you're eligible.
Temporary or Long-Term Wage Replacement
When an employee sustains an injury that makes them unable to work, they may be able to request lost wage benefits. Generally, lost wages are only given to employees who receive temporary or permanent disabilities from their accidents. However, if you suffer an injury that causes you to miss an extended period of work, you may also qualify as temporarily disabled and be able to apply for lost wages. If you're completely unable to work, your wage replacement should be two-thirds of what you were making before your injury. If you are able to work but not able to do the same job as before, you may receive wage replacement benefits to balance it out.
Common Construction Accidents in North Carolina
Construction is a risky career. While not every site presents the same dangers, there are a collection of ways that workers can accidentally get injured while on the job. Some of the most common construction accidents our team has seen here in Charlotte include:
Falling
Falling is the most common construction accident across the country. Unfortunately, an individual can fall at almost any time, whether they are standing on a moving surface or they lose their balance on a roof. No matter how the fall occurred, it's essential that you have your injuries checked immediately to avoid the damage worsening. While falls can happen in almost any situation, it's still imperative that your company tries to implement as many safety measures as possible. If you believe your fall could have been prevented, reach out to a staff member at The Bollinger Law Firm.
Being Struck by an Object
Struck-by incidents occur when a construction worker is hit, pushed, or essentially struck by any object. These kinds of accidents have the potential to cause serious harm and are a leading cause of fatalities in the industry. If you were struck by a rolling, swinging, or falling object and sustained an injury, do not delay filing a workers' compensation claim. Because the injuries from struck-by accidents are usually severe, it's critical that you prioritize your recovery and get the help you need.
Slipping or Tripping
Slipping and tripping are another primary cause of construction injuries here in North Carolina. Slippery surfaces, unorganized tools and equipment, and uneven surfaces can easily cause workers to trip and sustain injuries. While the majority of slips are not too severe, they can still cause great harm and force an employee to take time off work. Reach out to our team to see if your slip accident qualifies for workers' compensation in Charlotte.
Getting Caught In Between or In Objects
Many construction sites use large pieces of machinery and equipment to get the job done. While the people using these machines have certifications, accidents can still occur. Thousands of construction workers get caught under heavy materials, machines, or tools every year and suffer injuries. Caught in-between incidents commonly result in crushing injuries and can cause disabilities. If you sustained a disability from a Charlotte construction accident, you should talk to a lawyer about disability benefits as soon as possible.
Electrocutions
Because many construction jobs involve putting up new buildings and tearing down old ones, workers are often confronted with live wires and electrical issues. Electrocutions are another common construction accident that can lead to long-term injuries and burns. While in some cases, electrocutions are hard to prevent, there are many accidents that have occurred due to inadequate safety precautions.
Machinery Incidents
Every piece of machinery used on a construction site is designed to perform a specific job. Every person who operates these machines must have the proper certification and know how to use them safely. However, while training employees is an important safety measure, it still can't prevent every accident, especially when issues with a machine arise. Whether you were hurt by a faulty machine or a negligent driver, a machinery incident that causes you injury still qualifies for workers' compensation.
Explosions or Fires
Explosions and fires can happen suddenly, often leaving those who were involved both injured and traumatized. There are a variety of scenarios where workers may be presented with the dangers of a possible fire or explosion, but most accidents occur without warning or time to prepare. The injuries that result from explosions and fires can be extensive, often leaving permanent damage or disabilities.
Why You Need a Construction Accident Attorney in Charlotte
Being involved in an accident that causes you serious injury is overwhelming enough, let alone when you have to deal with the legal and financial elements of it all. When you're hurt in a construction accident, you should retain a worker injury lawyer as soon as possible. By hiring a lawyer quickly, you can help ease some of the burdens your accident has put on you by transferring the administrative aspects to an experienced attorney.
At The Bollinger Law Firm, we work to make the recovery process as easy as possible. We do this by reviewing your case, helping you gather evidence, guiding you through the claim filing process, and providing legal support tailored to you. Don't attempt to go through the workers' compensation process alone and discuss your situation with our Charlotte legal team. We'll work to help you file a valid claim and receive the assistance you need to truly heal.
How to File a Claim After a Construction Accident in North Carolina
It's important to know how the claim filing process works so that you can be as prepared as possible. To file a workers' compensation claim after a Charlotte construction accident, follow these steps:
Seek Initial Medical Care
Your first priority after an accident should be seeking the medical care that you need. Whether you went straight to the hospital from your accident or you went after work a few days later, your initial medical visit will play a critical role in your case. If you're able to receive a diagnosis, this can also help back up your claim when you file.
Report Injury to Employer
When accidents occur on construction sites, the owners of the property and the construction company must be notified immediately. If you are unable to report the accident because of your current condition, you may be able to do so digitally or have a coworker report it for you. You may not be able to file a claim for workers' compensation if you do not report the injury to your employer first.
Retain a Construction Accident Attorney
Without an experienced worker injury lawyer, it can be difficult to deal with the legal elements of a construction accident by yourself. If you were harmed while working on a construction site in North Carolina, hire a Charlotte construction accident attorney as soon as possible to help you move forward with legal action.
File Claim Request
After finding an attorney that you can trust, you can work together to file your construction accident claim and request benefits. In this claim, you'll need to detail your injury and the accident in depth. Our team can assist you with filling out the right forms correctly and ensuring they get to the right place.
If the Claim Is Valid, Continue to Mediation
Once you have submitted your workers' compensation claim, you'll have to wait to see if your request is approved. If it is, you will then move on to what is called "mediation." During the mediation process, you and your lawyer have the chance to discuss your case with a judge and your employer to demonstrate why you deserve financial assistance. The mediation process allows both parties to better understand the extent of your injury and determine benefits that they deem fair.
Go to Trial (If Needed)
If your employer refuses to provide benefits or will not agree on a fair amount to give you, your case may have to move to the trial phase. In the trial phase, your case is treated similarly to how it would be in regular court. Both parties will have the chance to present their side to a judge, with a focus on proving the severity of your injury. Hopefully, the trial phase ends with you receiving the workers' compensation benefits that you rightfully deserve.
The Bollinger Law Firm, PC: Charlotte's Worker Injury Team
Getting injured at work is never simple. From focusing on healing to getting food on the table, we know that you have a lot on your mind. At The Bollinger Law Firm, we make your injury our priority. We have served countless North Carolina clients through difficult times for decades, helping them through injuries and arduous cases. If you were injured in a Charlotte construction accident, contact The Bollinger Law Firm, PC, for legal help today. Our team is prepared to fight for the benefits you need to heal.